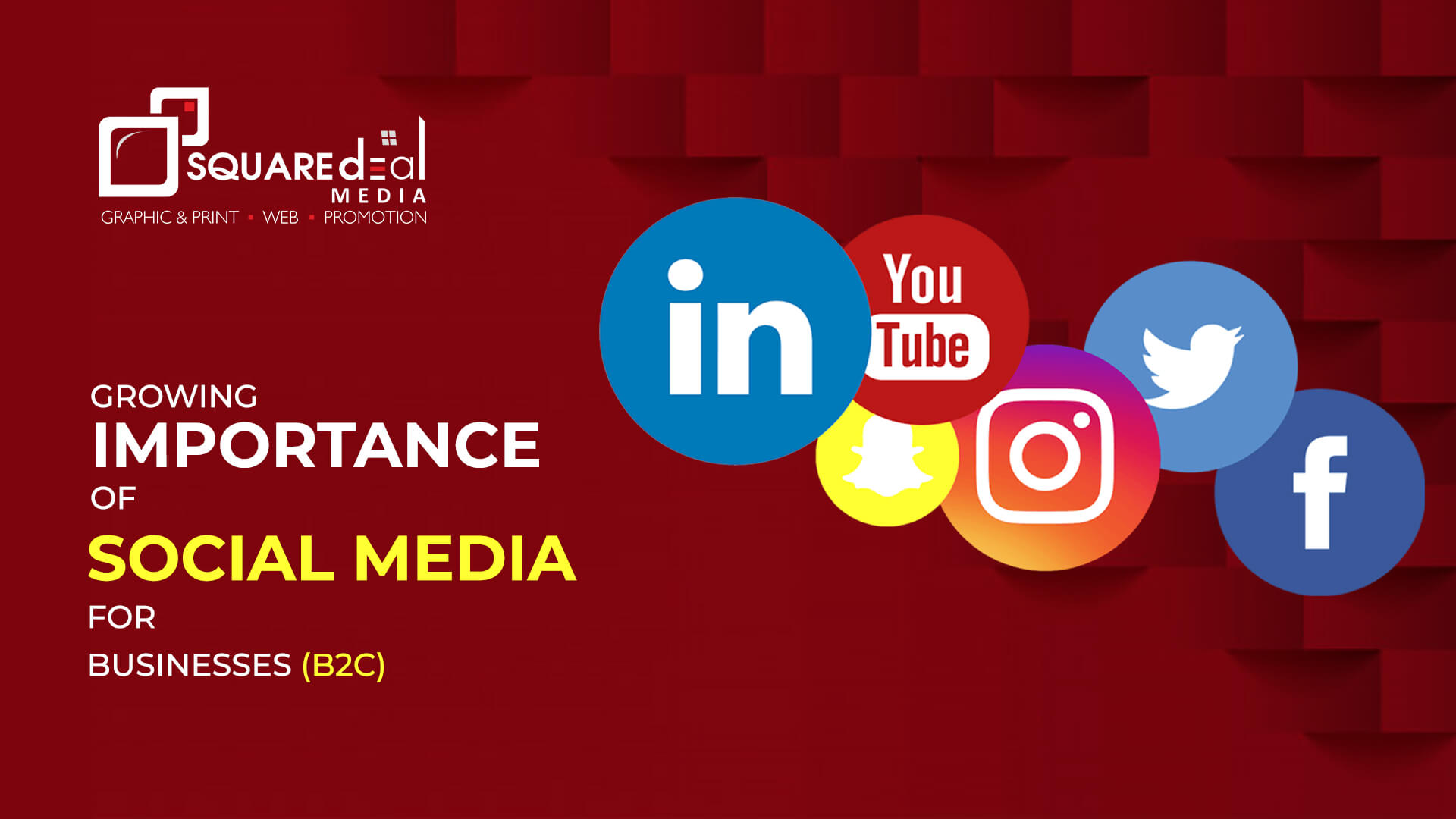 If you sell your products/services directly to consumers (run a B2C business), you will face competition in your niche as B2C is one of the most practiced business models. You want your business to reach maximum people, generate inquiries, get leads & grow your client base. Here comes the role of social media. Social media helps you accomplish your business goals if you use it correctly.
Business models are mainly classified as:
B2B - Business to Business
B2C - Business to Consumer
C2C - Consumer to Consumer
C2B - Consumer to Business
Now, let's talk about the growing importance of social media for B2C type businesses. Although social media is useful for almost all types of businesses, B2C type businesses are benefited the most from social media platforms. One of the most common examples of social media influence is all the brands are on social media & spend a considerable amount of money too!
As many social media platforms keep updating themselves from time to time, they offer more & more features that help businesses to connect with their consumers & showcase their products & services in a better way. You must be using platforms like Facebook, Instagram, Twitter & LinkedIn for personal use & your business. Did you observe that with the growing number of people using social media, we get more information, updates & business opportunities?
It's a proven fact that Social Media platforms are not only useful, but they're becoming a must for businesses.
How important is social media for your business?
Very important.
The top two factors that contribute to its importance are getting a genuine audience & the trust factor.
Get genuinely interested people:
You have a lot of content & updates which you want to share with your audience. What next? Genuine buyers will always look for better services online & the good news is that social media has many proven strategies for Inbound Marketing!
Content that is shared or promoted on social media gives you better reach as well as attracts the target audience for your business.There are many platforms & ways in which you can publish & share your content in organic ways. If you focus on the quality of your content, you'll have an edge over the competitors in the market. In the future, a content marketing-driven strategy will become more popular among businesses & when customers visit the social profiles of the companies/organizations, the first thing they'll notice is the quality of content published overtime on your business pages.
If you have a good amount of quality content published over time, you can easily win the trust of your audience & convert your followers or leads to your customers.
Trust Factor:
You can create a considerable amount of custom-audience tailored content on social media, show client reviews & portfolios that are no doubt, the best points to gain the trust factor of your target audience. Maintaining your social media business profile shows that you're active in your domain & are open to business opportunities. When people see page updates on your page & engagements like shares, comments & post reactions on your social media accounts, it'll act like a social proof for your business.
Here are some reasons why you should consider using social media for your business:
Best time to start & grow on Social Media:
Today, almost everyone is on the internet. Today's young generation on Facebook, LinkedIn, Quora & Instagram will become your customers tomorrow if they notice your business online today. The best part here is social media account setup is user-friendly & you can present your business in the way you want!
Reach the Masses:
Time is money. Any company ready with its product/service first focuses on its reach. If you don't focus on your reach, you're indirectly helping your competitors to grab the market.
Social media is, no doubt the fastest way to reach your audience in the way you want & generate a lot of inquiries. Even without paying (Paid Promotions), you can get good attention if you properly work on your profile & generate quality content. There are many examples where the companies that had started social media recently performed well, even when the market was saturated. The more you present yourself in the market, the more results are expected.
Low Cost:
As compared to print media, online social media platforms are still very pocket-friendly in terms of advertisement & offer many other advantages like tracking & analytics services, due to which you get a lot of insights which you can use for further development. That's the reason brands are spending more & more on social media.
Using social media can have tons of benefits & it is highly recommended for B2B type businesses. If you're planning to get social media related services for your business like SMM, SMO We at Square Deal Media are glad to help you! Reach us here.